Vegetable oils are natural fats extracted from plants. Their use in the cosmetic industry is quite wide, both in skin care products and hair care products (not to be confused with vegetable cooking oils!)
They are extremely versatile and useful, especially in skin and hair care. Many vegetable oils are also used for therapeutic purposes. The vegetable oil of each plant has its own therapeutic properties.
They are extracted mainly by cold pressing and maceration, preserving the oils in their most natural and pure form. Depending on the plant, they can be extracted from seeds, vegetables and fruits.
In aromatherapy , vegetable oils are also known as carrier oils or base oils . They are called carriers, because they "carry" (dilute) the essential oils , and can be chosen to complete their properties (if you don't know what I'm talking about, take a look at this post to know more about essential oils, it's worth pity).
Difference Between Vegetable Oils and Mineral Oils
While vegetable oil is natural, extracted from plants, mineral oil is usually extracted as a by-product of petroleum. Vegetable oils are lighter and have more pleasant cosmetics. Mineral oil, on the other hand, has a thicker texture and forms an external barrier on the skin, lubricating and protecting (as in cases of burns), but it can cause obstruction of the pores and glands , including even more drying the skin. Whenever you can, choose vegetable oils, which are much healthier.
Types of Vegetable Oils
Vegetable oils can come from countless plants. I have selected the ones I find most useful and important below.
1. Avocado oil
Avocado oil is one of the healthiest and most beneficial oils. It has phytosterols, vitamins A and E, and omega 6 and 9. This oil inhibits the formation of free radicals, slowing the formation of wrinkles and stretch marks, regenerating and deeply hydrating the skin. Also very suitable for hair, strengthening, moisturizing, giving shine, recovering dry hair and bringing flexibility to dry hair.
2. Sweet Almond Oil
Almond oil is a vegetable oil rich in vitamins and has a high penetrating power, hydrating and smoothing the skin with ease. It has rejuvenating, regenerating, moisturizing, softening and nourishing properties. A great emollient that provides extreme softness to the skin. Improves skin flexibility and elasticity. Also suitable for sensitive and delicate skin, due to the high concentration of vitamins A, B1, B2 and B6. It is widely used in the prevention of stretch marks in pregnant women, and can be used in daily skin hydration.
3. Argan oil
Argan oil is an excellent moisturizer for skin and hair. Protects the skin from damage caused by free radicals. It contains squalene, a component of human skin, and is therefore easily absorbed. It is an ultra-moisturizer. Stimulates the circulation of the scalp, prevents hair loss and repairs dry hair. Because it is extremely thin and quickly absorbed, it is used as a hair conditioner after using the shampoo. Gives skin and hair shine.
4. Copaíba oil
Copaiba oil is a balm (resin) extracted from the tree trunk. It is well known and used as an anti-inflammatory, antiseptic and healing agent. Its effectiveness as an anti-inflammatory and antibiotic has been proven through many researches over the years, as well as its remarkable performance as an antiseptic, expectorant, healing and carminative. It is effective in the treatment of wounds, eczema, psoriasis, hives and acne. It can be used to prevent scalp disorders, such as dandruff and seborrhea, in addition to acting as a shine donor. Learn more about copaiba oil .
5. Wheat Germ Oil
It has antioxidant, revitalizing, emollient and nourishing properties. Wheat germ oil is rich in vitamin E and has antioxidant properties: it is a great ally in fighting free radicals in the skin, preventing premature aging and restoring vitality. It is highly nutritious, being indicated for several skin problems. Prevents hair loss and stimulates its growth. Provides silkiness, shine, softness and resistance to hair. Learn more about wheat germ oil .
6. Jojoba oil
The jojoba oil is rich in esters, monoethylenically acids, alcohols, vitamin E and minerals. It also contains linoleic fatty acids (Omega 6) and gondóico acid. Due to its rich constitution it is indicated for hydration of all types of skin, including oily, acne and inflamed. It has unblocking action of pores and sebaceous glands, naturally regulating skin oiliness. In hair, it cleanses the hair bulb, regulates oiliness and allows new hair to grow. Can be used for hair treatment and hydration and as a finisher.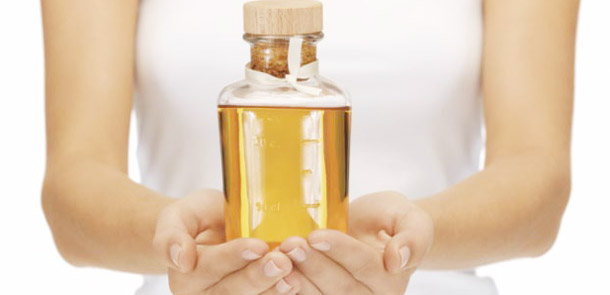 7. Rosehip oil
The rosehip oil is rich in unsaturated fatty acids such as linolenic acid (omega 3), linoleic (Omega 6), oleic (omega 9), palmitic, stearic, myristic , and palmitoleic. It also contains a substance called tretinon, derived from retinol (vitamin A), which renews and reconstructs epithelial tissue. It also has tocopherols, antioxidants derived from vitamin E.
Due to this composition, its use is especially useful in products with antioxidant effect. It helps to reduce the coloring of blemishes, scars and the formation of premature wrinkles, preventing skin aging. Indicated for dry and devitalized skins.
8. Grape Seed Oil
The oil is extracted from the seed and has a greenish color. It is rich in vitamin E and omega 6; it has vitamins B1, B3, B5, C, D, F and polyphenols such as resveratrol. It helps to slow aging, inhibiting the formation of free radicals and increasing the strength of collagen fibers. Grape seed oil has the advantage of having a fine texture and, therefore, penetrates the skin pores more quickly. In addition to moisturizing the skin, the grape seed oil moisturizes, brings softness and helps in hair growth.
9. Sesame oil
Sesame oil has a high titer of omega 6 and 9, in addition to important phytosterols and vitamins A, B1, B2, B3 and E. Powerful antioxidant and anti-inflammatory, fighting free radicals. Vitamin T, contained in the oil, helps the skin's regeneration processes. Improves skin elasticity. Rejuvenating, slows premature aging. Excellent for all skin types, with eczema and psoriasis problems. Helps prevent hair loss. Moisturizes and brings softness. Prevents hair from becoming gray early. Learn more about sesame oil .
10. Aloe Vera Oil (Aloe Vera)
The oil concentrates the benefits of aloe vera : it has antibacterial, healing, moisturizing, regenerating, healing, moisturizing and nourishing properties. It is a powerful regenerator and natural antioxidant, helping sagging and dry skin, and acting as a wrinkle preventive. Balances the pH of the scalp, reduces oiliness, moisturizes dry hair, repairs damaged hair, strengthens, is anti-dandruff, anti-seborrhea, anti-hair loss, and promotes growth.
11. Babaçu Coconut Oil
This oil differs from the others in that it has medium chain saturated fatty acids: lauric, myristic, caproic and caprylic acids, which have antimicrobial, anti-inflammatory and weight loss action. It is great for skin and hair care, acting as a moisturizer, bringing softness and nourishing. Prevents premature skin aging. In hair, it protects from environmental pollution and strengthens the hair fiber.
12. Brazil Nut Oil
It has vitamins A and E, and a considerable amount of two very important minerals: zinc and selenium. Provides deep hydration to the skin, and acts to prevent stretch marks. Great for treating dry hair, leaving it silky and shiny. Helps restore damaged and dehydrated hair.
13. Blackcurrant oil
This oil is rich in vitamin C and other natural antioxidants: anthocyanins, which are pigments in the group of bioflavonoids that protect plants against UV rays, preventing the production of free radicals. It has antiseptic and anti-inflammatory properties. It is efficient to hydrate dry skin, which compromises the regenerative capacity. It is indicated to prevent premature aging, and to attenuate expression lines in the eye area. In hair, it moisturizes, strengthens the root, and helps in growth.
14. Linseed oil
Inheriting the power of flaxseed , this oil is rich in omega 3, this oil has a powerful antioxidant and anti-inflammatory action, favoring skin treatments such as wrinkles, eczema, acne, psoriasis, atopic dermatitis, skin problems, keloids, cracked skin. For the hair, it is moisturizing, fortifying, reduces hair loss, helps in growth, gives shine, and decreases frizz. Flaxseed oil is highly unsaturated. This means that it is very prone to oxidation (rancidity) unless it is stored correctly. Be careful with linseed oil: always buy only from trusted brands that have dark glass to prevent oxidation.
15. Macadamia oil
It acts as a natural anti-inflammatory (due to its oleic acid content). It is a great capillary moisturizer. It has high emollient power, giving softness and shine to the hair. It has special utility for dry and dull hair, lubricating the hair, keeping it hydrated. On the skin, it promotes continuous hydration, preventing the formation of wrinkles and premature aging. Widely used in anti-aging creams.
16. Castor Oil (Castor Oil)
Castor oil is a powerful moisturizer for skin and hair. It is absorbed quickly by the skin; and right after being absorbed, it stimulates collagen production. This makes it effective for reducing wrinkles, as well as pimples, acne, eye bags, sunburn, dry skin, stretch marks, among others. In addition to treating the scalp, castor oil conditions and moisturizes the hair, preventing split ends. Helps strengthen and improve hair loss.
17. Neem oil
The neem oil contains more than one hundred biologically active compounds, including compounds of nimbidina and nimbin, omega-6 fatty acids and azadirachtin, a compound which acts as a potent repellent of insects. Neem oil is an excellent carrier oil for everything from the treatment of hair and skin diseases. It can help stimulate collagen production, good for skin aging. It acts as a free radical scavenger, hindering the oxidative processes of the skin. Promotes soft and smooth skin and helps in reducing scarring.
18. Pumpkin Seed Oil
The of pumpkin seed oil has antioxidant properties, stimulating hair growth inhibitor of 5-a-reductase inhibitors (enzymes involved in the metabolism of steroids) and promotes strength, gloss and strength to the hair, preventing hair loss. It is also indicated for the treatment of psoriasis and dermatitis.
19. Evening Primrose Oil
The evening primrose oil is the seed of a wild flower that is native to the central and eastern parts of North America. What makes it special is its high concentration of linoleic acid and especially gamma-linoleic acid or GLA, which is a potent anti-inflammatory and is highly effective in treating skin conditions such as acne, psoriasis and especially eczema. Evening primrose oil also helps fight dryness and skin irritation, treats acne, eliminates dandruff and improves hormonal balance.